In loving memory of Baron K582 
Philadelphia Police Department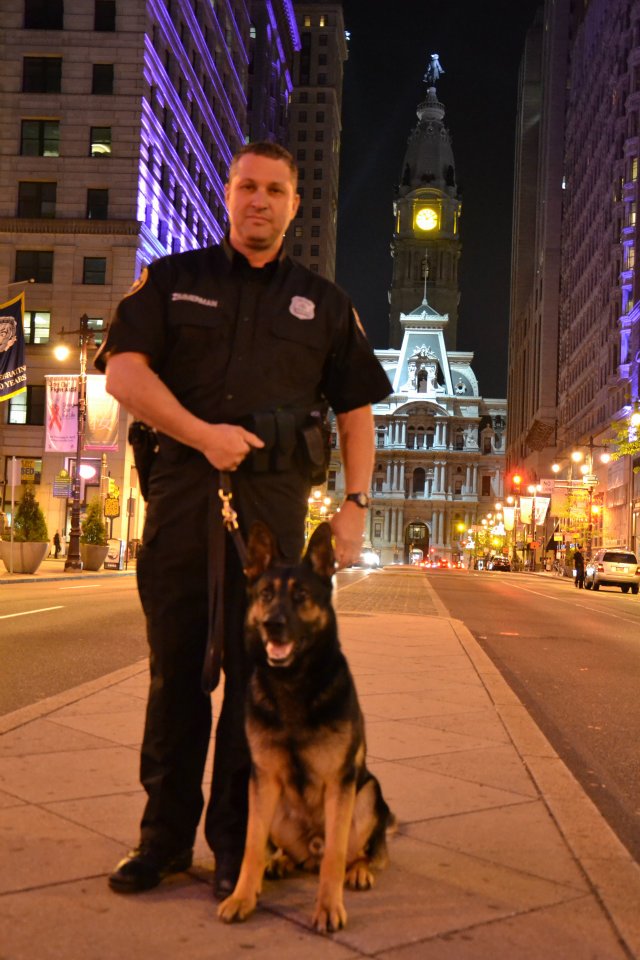 K9 Baron served proudly with his handler Officer Jim Zimmerman for over 7 years. They enjoyed a very special bond. We are so very grateful he was allowed the chance to shine and do a job he loved so much.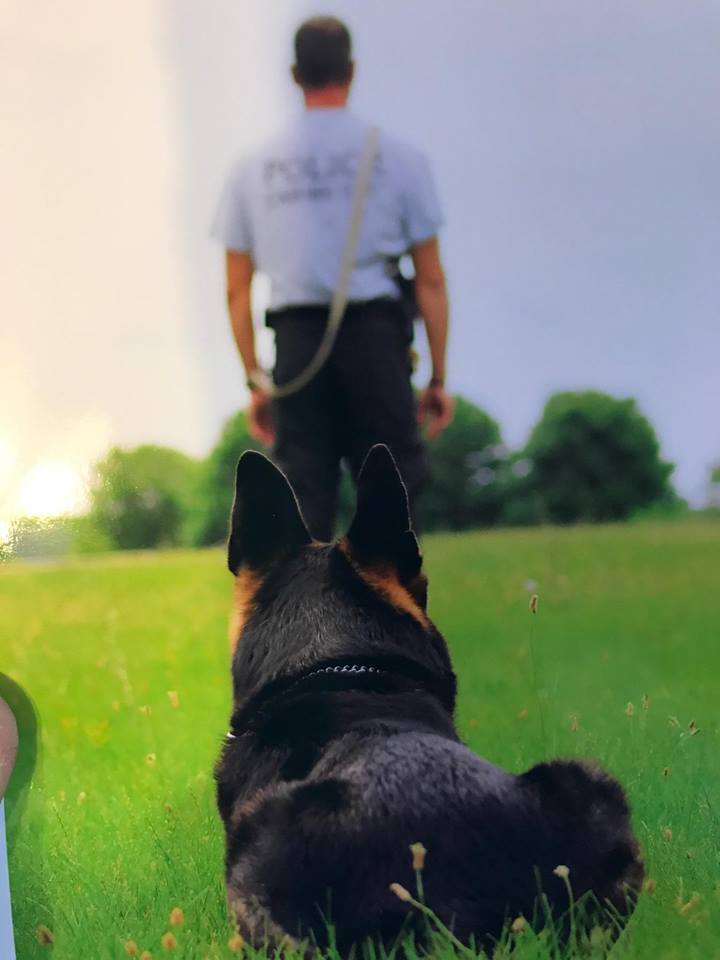 Rest easy, mighty warrior.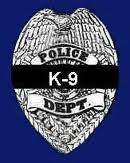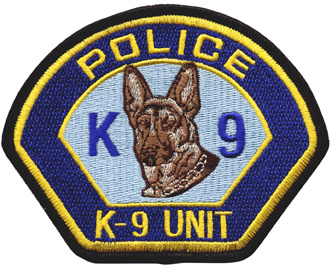 K-9 Mavrick
Update: 7/15/2016
We are so proud of our Mavrick who is now an official K-9 of the Philadelphia Police Department.  We congratulate Mavrick and his handler Officer O'Brien for their hard work and dedication.  We wish you a long and happy career together and we pray for your safety.  Way to go Mav!!!  
Make us proud.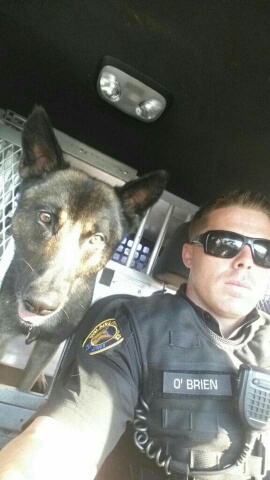 Update 3/28/2016.  Mavrick is doing great during his second week of class.  He is already caught up on his obedience training.  We'll keep you posted.  Go Mavrick, we are rooting for you!
 
So begins the latest adventure!    Mavrick was found dragging a heavy chain and ended up at a rural shelter in North Carolina with next to no options of being adopted.  German shepherds are not put on the adoption floor and require a rescue to take them.  No one came to claim him.  
After being at the shelter for a few days, the staff saw his crazy energy level and said 'this boy needs a job'.  They contacted us and we went to go and take a look.  As sick as Mavrick was with horrible kennel cough, he was raring to go.  Hung off a towel and almost shredded it, wouldn't give up a ball or squeaky toy for even the most tasty treat.   He's now with his foster mom and upon completion of his isolation, he will be transported and going into K-9 training class with Philadelphia's finest.  Please send up some good thoughts and prayers for our boy.   He is being treated for his kennel cough, will be neutered and we're working on his transport.  
Mavrick hopes a few angels will step forward and donate to help make this possible.  Although we've been bogged down with medical and special food costs for Zeus, we just couldn't let this opportunity pass by for Mav.  
We'll keep you posted.
Click on the Angel to help Mavrick.
Mavrick's Supporters:
For the love of Mavrick: Jane, Dave and Misha 
Linda and Philip Okun
Jane and Dave Doyle
 UPDATE 3/19/2016.  After a 9 1/2 hour drive today, Mavrick is now with the Philly K-9 unit.  What a brave and sweet boy he is.  Here is Mavrick at the halfway point and is waiting for his pickup to start the beginning of his new adventure. We are soooooooooooo rooting for you, our boy.  We know you will make us proud!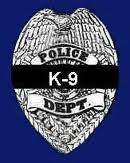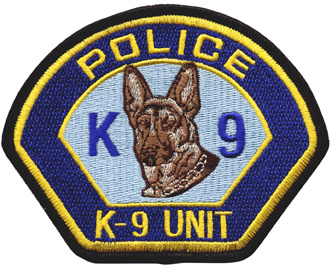 K-9 Abel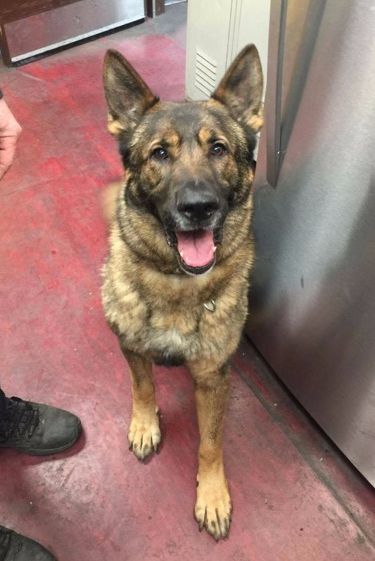 Meet K-9 Abel.  He's checking in with us while he's taking a break from his special ops training at the Philadelphia K-9 unit.
Abel's story is all too common.  We got a call from a shelter on Long Island that said they had a very high drive German Shepherd that needed a job.  We went to evaluate him and he did awesome and aced his evaluation.  Philadephia K-9 unit was looking for dogs for their sping class and were anxious to meet him.  It was love at first sight when his handler met him.
We are so proud of our K-9 Abel.  Stay safe out there guys.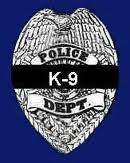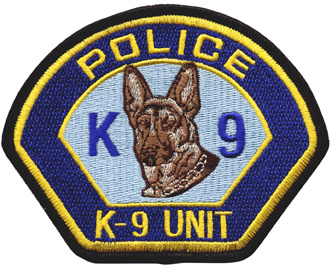 Our "Top Cops" working the
Democratic National Convention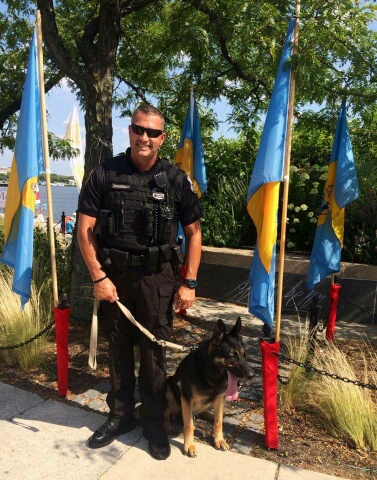 Officer Zimmerman and K-9 Baron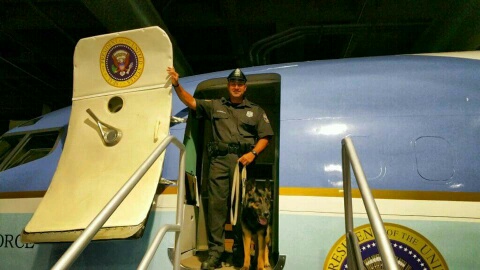 Officer Zimmerman and K-9 Baron on Air Force One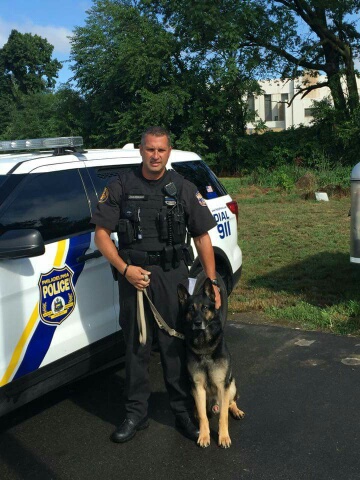 Officer Zimmerman and K-9 Baron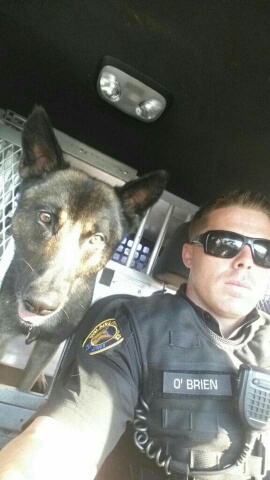 Officer O'Brien and K-9 Mavrick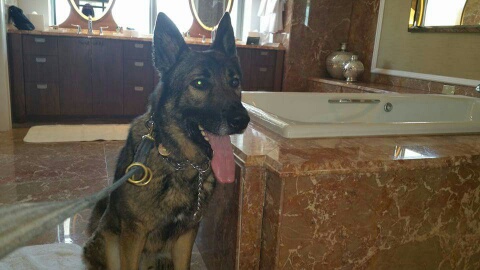 K-9 Bravo securing the VIP suite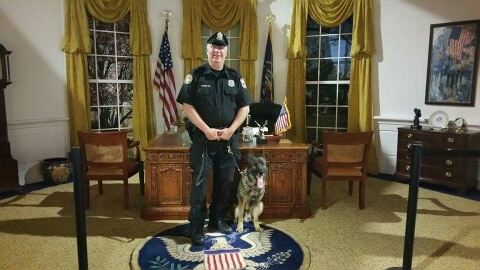 Officer Treston and K-9 Baron in the Oval Office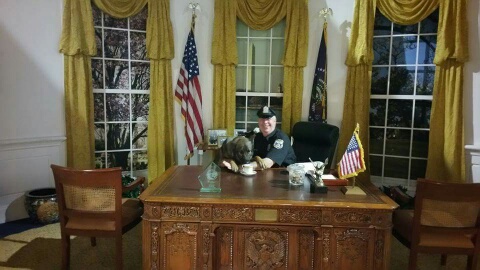 Officer Treston and K-9 Baron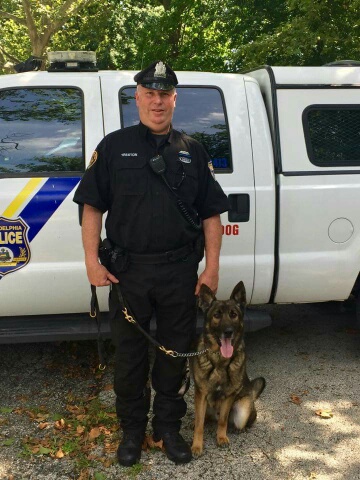 Officer Treston and K-9 Baron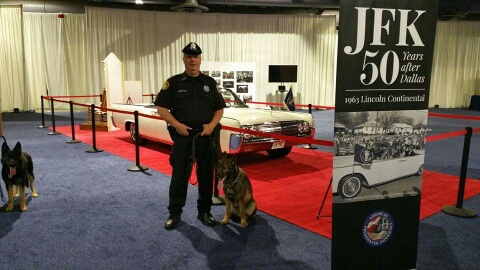 Officer Treston and K-9 Baron at an Exhibition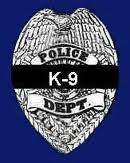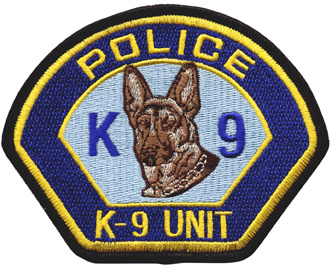 K-9 Mavrick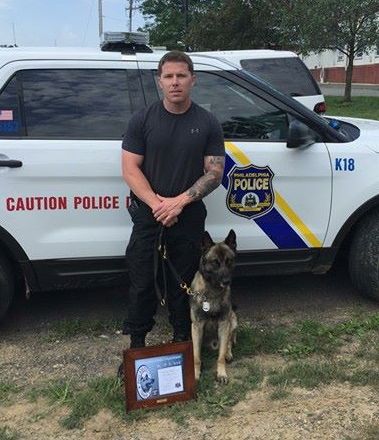 We are so proud of our Mavrick who is now a K-9 for the Philadelphia Police Department.  We send our heart felt congratulations to Mavrick and his handler, Officer O'Brian.  Wishing you both a long and happy career together.  We pray for your safety.  
Mavrick was found wandering the streets of a rural area in North Carolina, dragging a chain and starving.  It was clear that he had a hard life and lived outside on a chain, an all to familiar sight in the south.  He was picked up by Animal Control and brought to the shelter where they only give animals 72 hours before they are euthanized.  The shelters in the south are always crowded and very little time is given to the animals to make room for more animals.   Once we saw the post that said he had not been claimed and would be killed the next day we had to help.  We immediately called the shelter and told them we would be there first thing in the morning.  We arrived at the shelter to see this very happy, enthusiastic boy jumping like a jumping bean in his kennel.  During the evaluation it quickly became clear this dog was intense, focused, strong and very determined, the perfect combination for K-9 work.  So we pulled him not knowing where we could find a job for him.  
We called our contacts at Philadelphia K-9 and they said they had started their class 6 weeks ago but they still had more handlers that needed dogs.  We drove 9 hours to get Mavrick to his handlers in Philadelphia.  We named him Mavrick because he was tiny and mighty and was a bit of wild card because of his rough beginning.  He was introduced to his handler, Justin and 'Team Mavrick' never looked back.  Mavrick was a natural and responded quickly to the tasks at hand.  And, although he entered training 6 weeks behind the other dogs, he was caught up with the class in less than 10 days.  He did everything they asked and learned very quickly.  His lead instructor said he did better than most of the bought dogs in the class.  Mavrick was fearless and willing to please.  And Mavrick was ready to hit the streets 3 weeks before the other dogs in his class.  
Mavrick graduated on July 15, 2016 and is now an official K-9.  We are so proud of our little mighty boy who was a day away from death.  He didn't have a very good start in life but he has a great future with his handler and his wonderful family.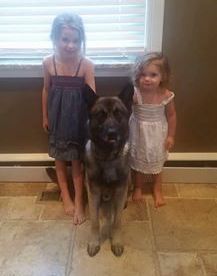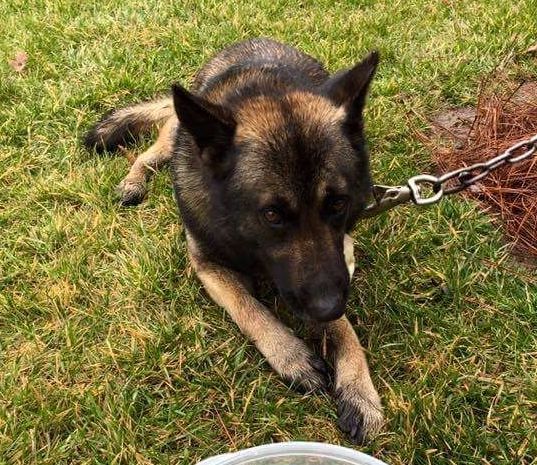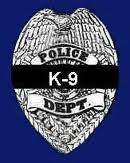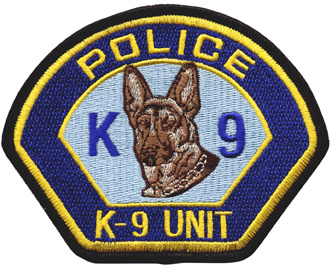 K-9 Bravo 
 Meet K-9 Bravo and his handler Officer Goatee working at the Philadelphia K-9 unit.
God bless you and be safe.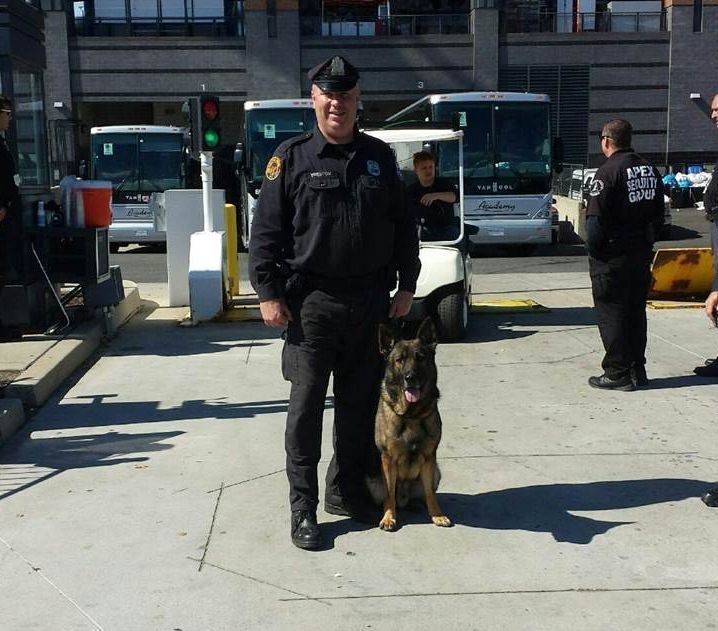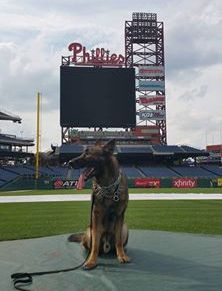 And………..tonight's starting pitcher – K-9 Bravo!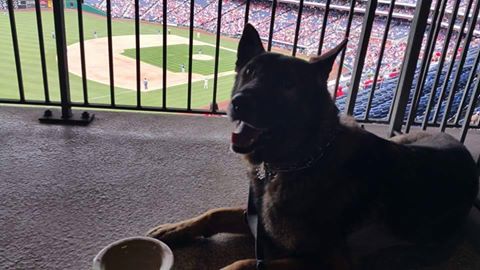 K-9 Bravo enjoying a drink in one of the suites.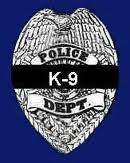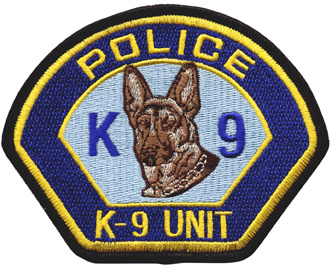 K-9 Baron
K-9 Baron on right with handler Officer Jim Zimmerman working the parade in Philadelphia. On left is Officer Jane DiPasquale and K-9 Pax. Our beloved friend and hero Janie is responsible for our former 'pound puppies' serving and protecting the city of Philadelphia.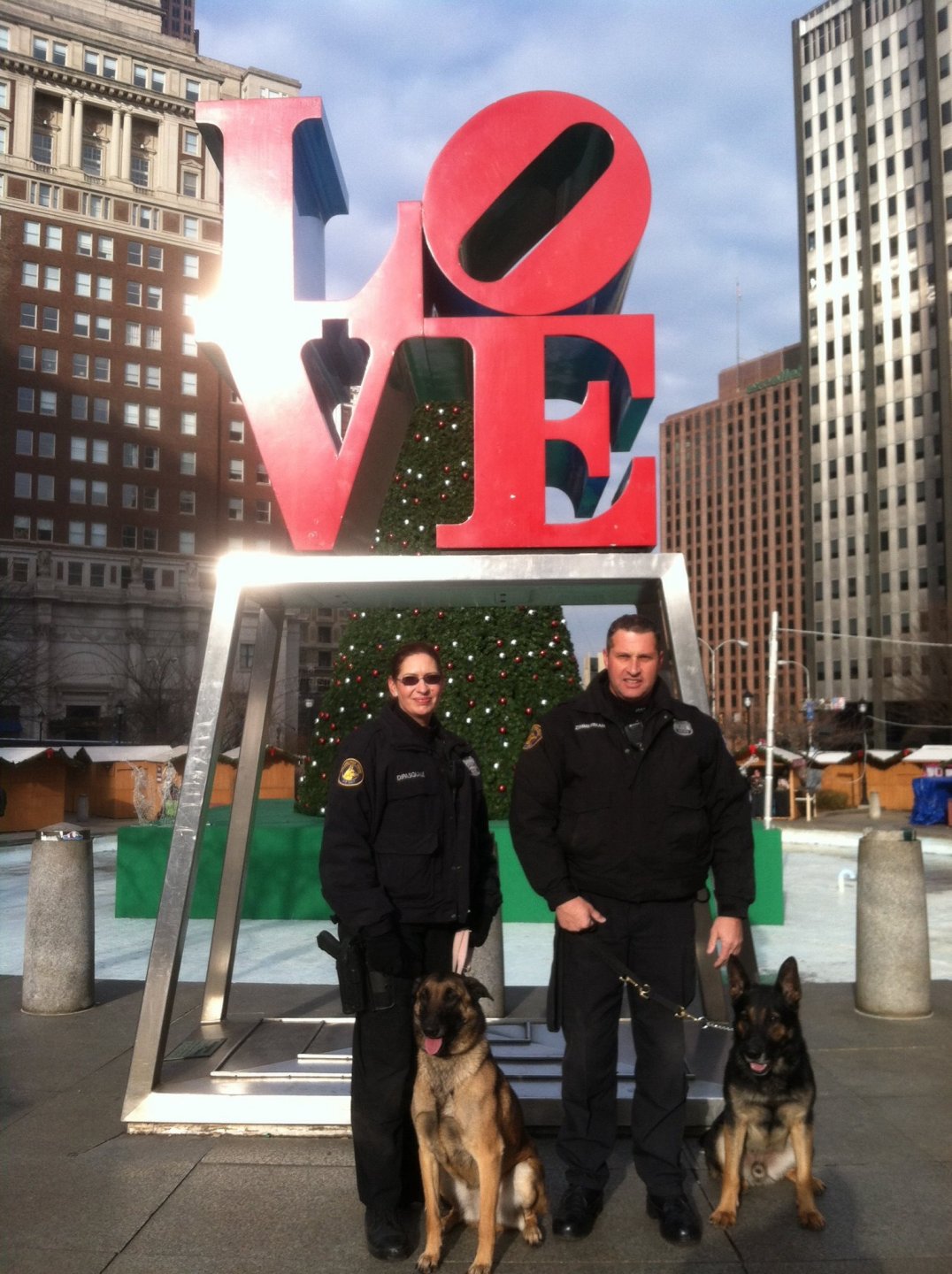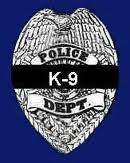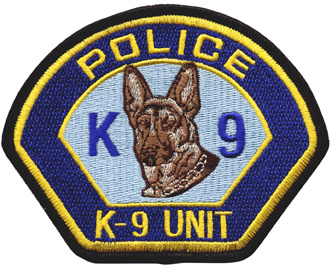 K-9 Reaper 
K-9 Reaper (right) bomb sweeps at the Army Navy game.  That's his sister, K-9 Pax, on the left.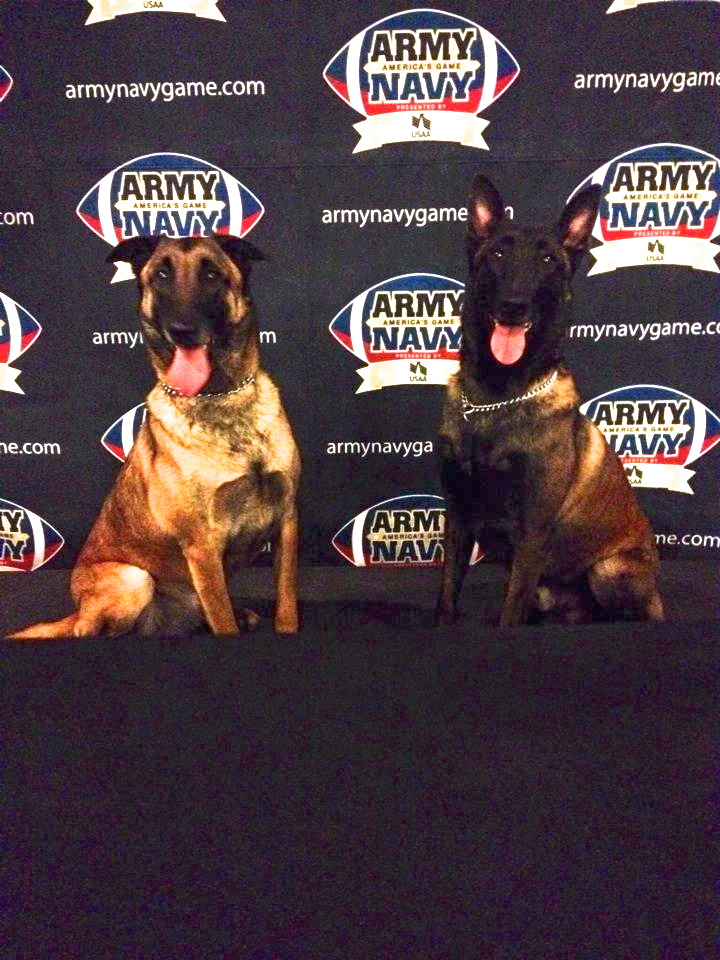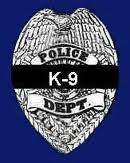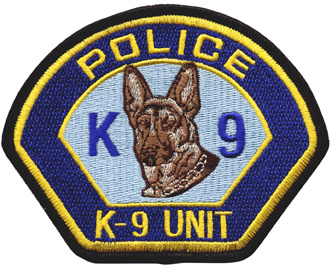 Here are two of our boys, K-9 Baron and K-9 Reaper with their handlers on the job this Labor Day Weekend.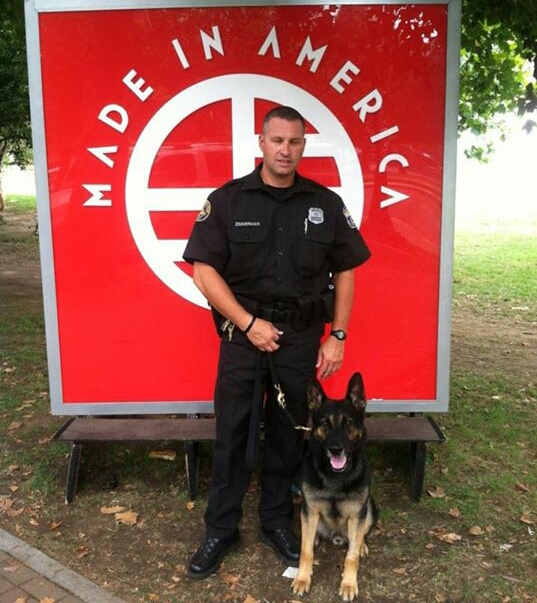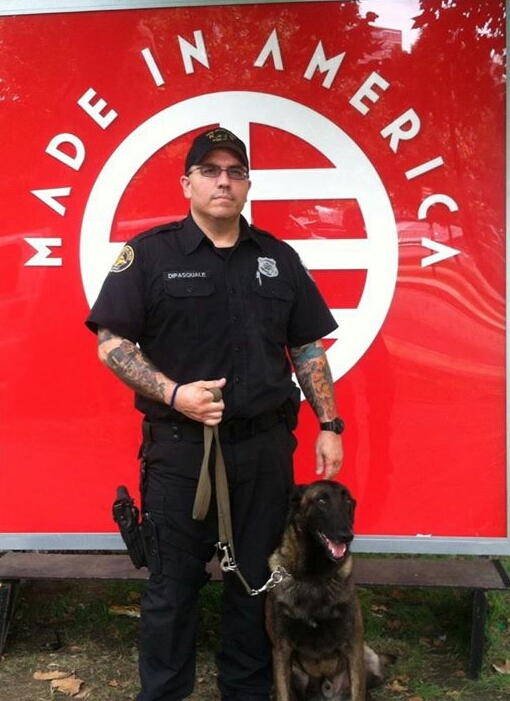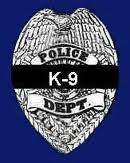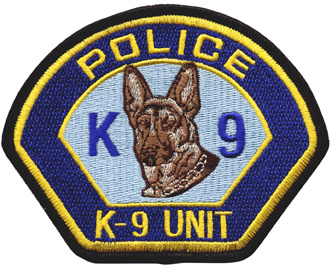 K-9's Baron and Reaper
K-9s Baron and Reaper, former Shepherds Hope pound puppies, sniffing for bombs at Taylor Swift concert, Philadelphia.  Another job well done, boys!!!!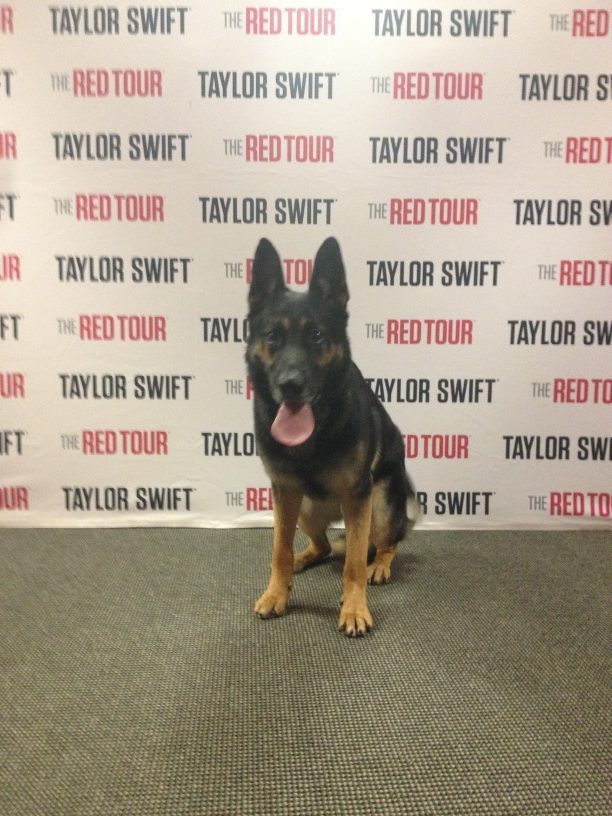 K-9 Baron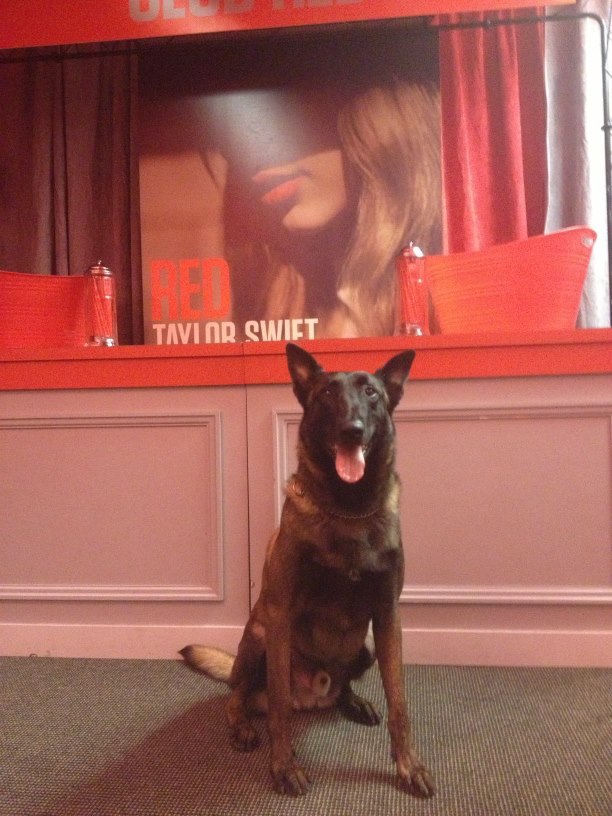 K-9 Reaper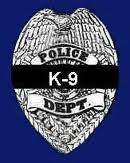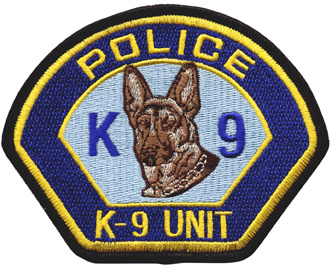 K-9 Ceer
Trooper Darling and K-9 Ceer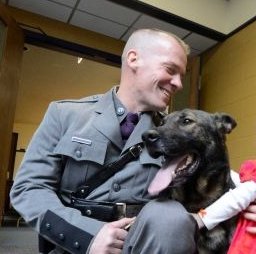 Update 11/16 K-9 Ceer
We are happy to report that K-9 Ceer has successfully gone through advanced training for SWAT team.
Congratulations Ceer, you are now a K-9 Top Cop!! We are so proud of you!
The owner of a beautiful, young, black sable GSD brought his dog to the vet.  He told the vet that the dog was impossible and to put the dog down.  The vet said that he couldn't do that because he knew the dog to be a good tempered dog.  The vet agrees to keep him and the owner relinquishes his rights of ownership. What the owner didn't tell the vet was that the dog was tied out 24/7 except for really cold nights in the winter when he was allowed to go into the garage. Poor Ceer starved for human interaction and love began to cry and bark and chew on whatever he could find.
 The vet's office called Shepherds Hope and asked for our help.  Upon meeting Ceer it became immediately apparent that he was an extremely intelligent boy that needed a serious job.  We reached out to our fellow GSD rescue contacts and asked if there were any K-9 units looking for candidates.  Sadly, no.  But there was a trainer who was looking for a working dog.  We were in luck.  So Ceer made the journey to meet his new handler and home.  But after a few weeks things weren't working out. Ceer had a different idea of how he wanted his life to be and he didn't feel like working.  So, what to do with a serious working dog that didn't want to work???  And just when all hope was lost to find a good place for Ceer,  a class was beginning for the NYS troopers.  Ceer was evaluated by the troopers and they immediately saw the makings of a great K-9 dog.
Ceer entered the K-9 academy training class for the Fall 2012.  Ceer was assigned to Trooper Patrick Darling.  The first few days were a bit slow, but after that the bond developed and Ceer began working and training with a purpose.  Ceer graduated in November and has become a great K-9 dog.  He and his handler, Trooper Darling are now working in Troop G in Latham.
We are so grateful to the NYS Troopers and Trooper Darling for helping Ceer to become the best that he could be.  Thank you to all of Ceer's guardian angels who helped him along the way; this was truly a group effort.  Thank you to the vet that cared and loved him enough to keep him alive and reach out to us for help.  To our rescue colleagues that worked to find a place for Ceer to go. To the transporters, the three teams, that came out on that icy day to get him to his adopter.  To his mom who adopted him to be a working dog but realized it was not going to work and gave him up so he could fulfill his destiny.  To the NYS Troopers who knew how to bring out the best of him to get him to work. And, most of all, to Trooper Darling and his wonderful family for loving and working with him and giving him the home he truly deserves.
  Thank you and God bless you all.  
Donna J.
Here is an article that appeared for Ceer's graduation day: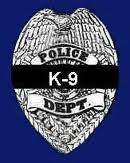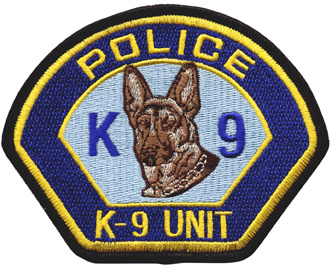 K-9's Baron and Reaper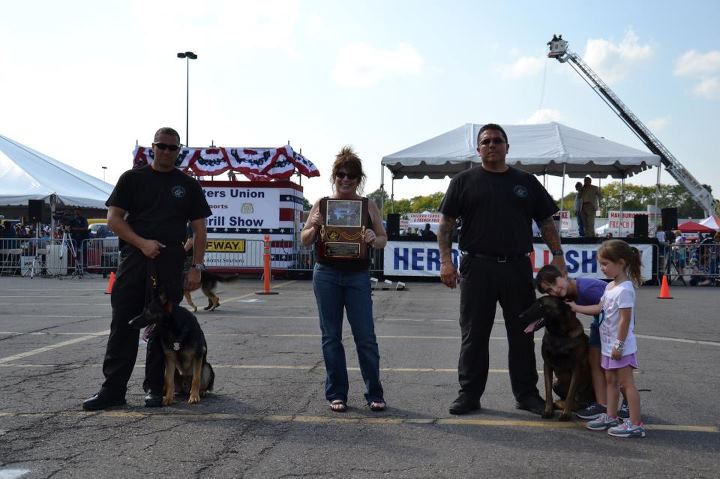 On Saturday at the Philadelphia Thrill Show, in an exhibition for K-9 dogs and
their handlers, Sgt. Nick DiPasquale and Officer Jim Zimmerman present a plaque
thanking Jeannie and Shepherds Hope for their donation of K-9s Baron and
Reaper.    We are so proud of our boys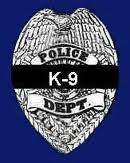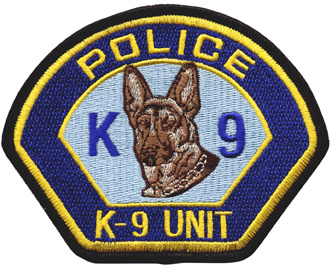 K-9 Winchester
Jay and Winchester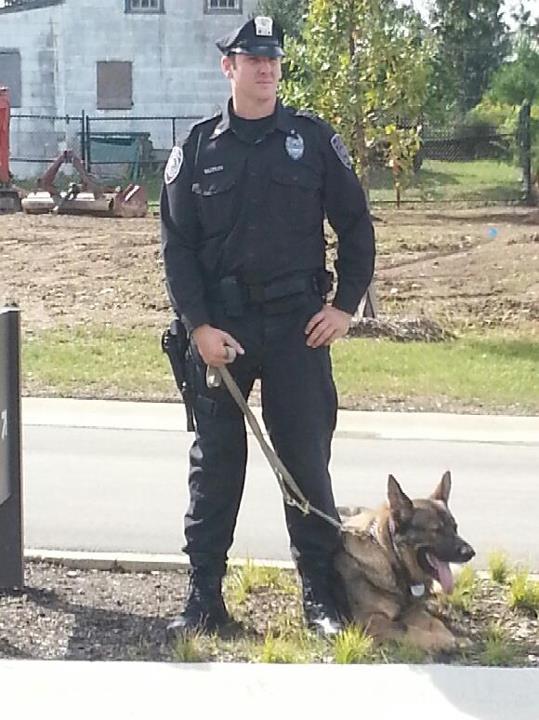 Jay and Winchester attend a tribute to former Marine and K-9 
handler Brad Fox who was killed in the line of duty.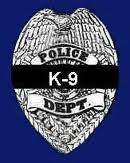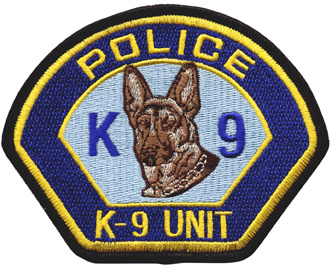 K-9's Reaper and Baron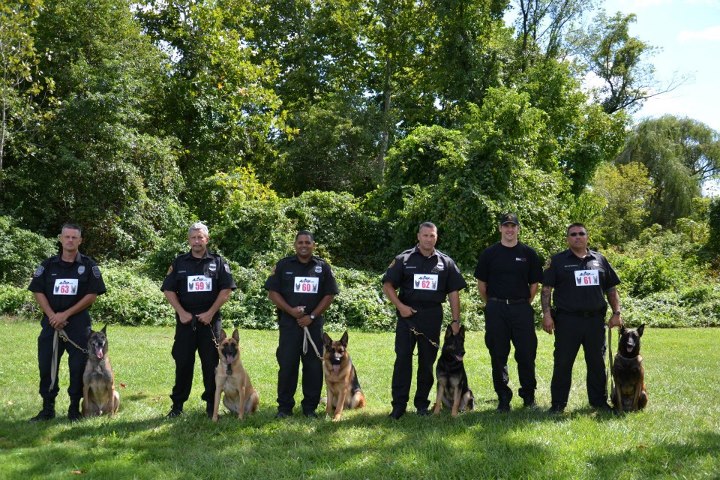 Reaper and Baron and the rest of their class just got their USPCA certifications today (that's the US Police Canine Association). So proud of our boys!!!!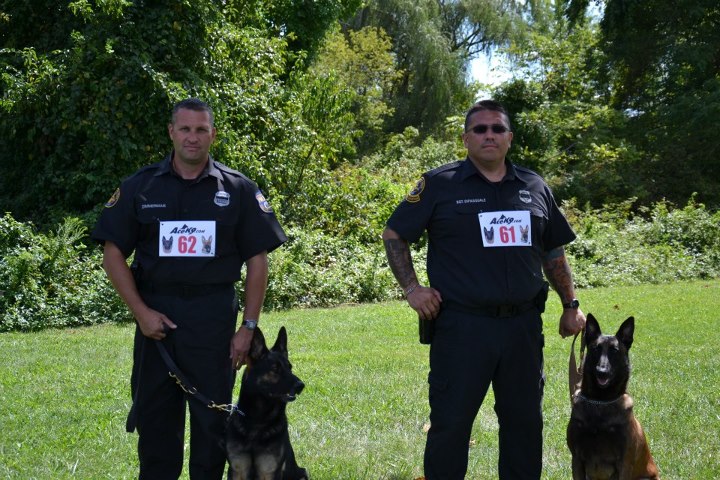 K-9 Baron with Officer Jimmy and K-9 Reaper with Officer Nick.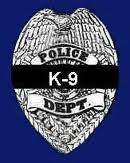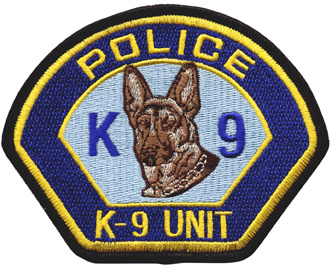 K-9 Rex
Update:  December 20, 2012
Rex has been called to Washington with his new K-9 handler Officer Steven Knapp to protect our National Monuments.  This is a great privilege and Rex and his handler are up to the challenge.  We wish Rex and Steve the very best and may they be safe.
Below is Rex with his new brother, retired K-9 Norris.  After some initial things to work out, Rex, who had been known to be dog aggressive, decided that having a big brother was kind of cool.  Our Rex is the handsome stud on the left.  Although, he looks so much like his big brother on Norris the right.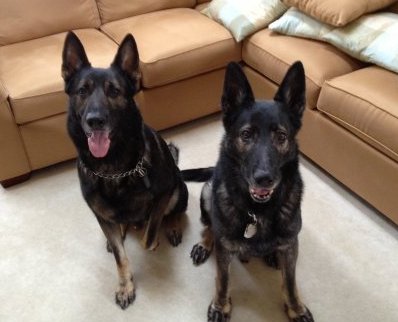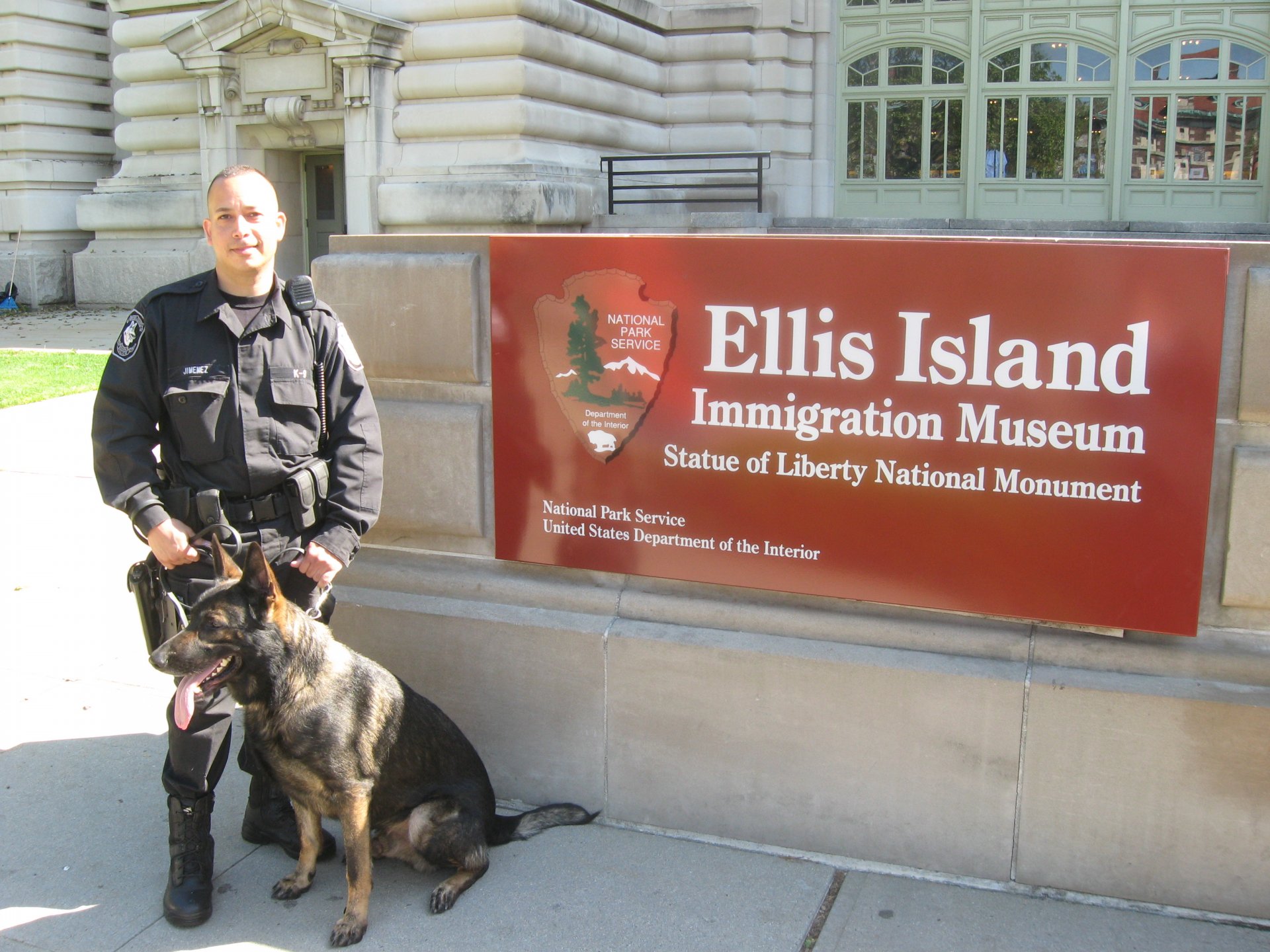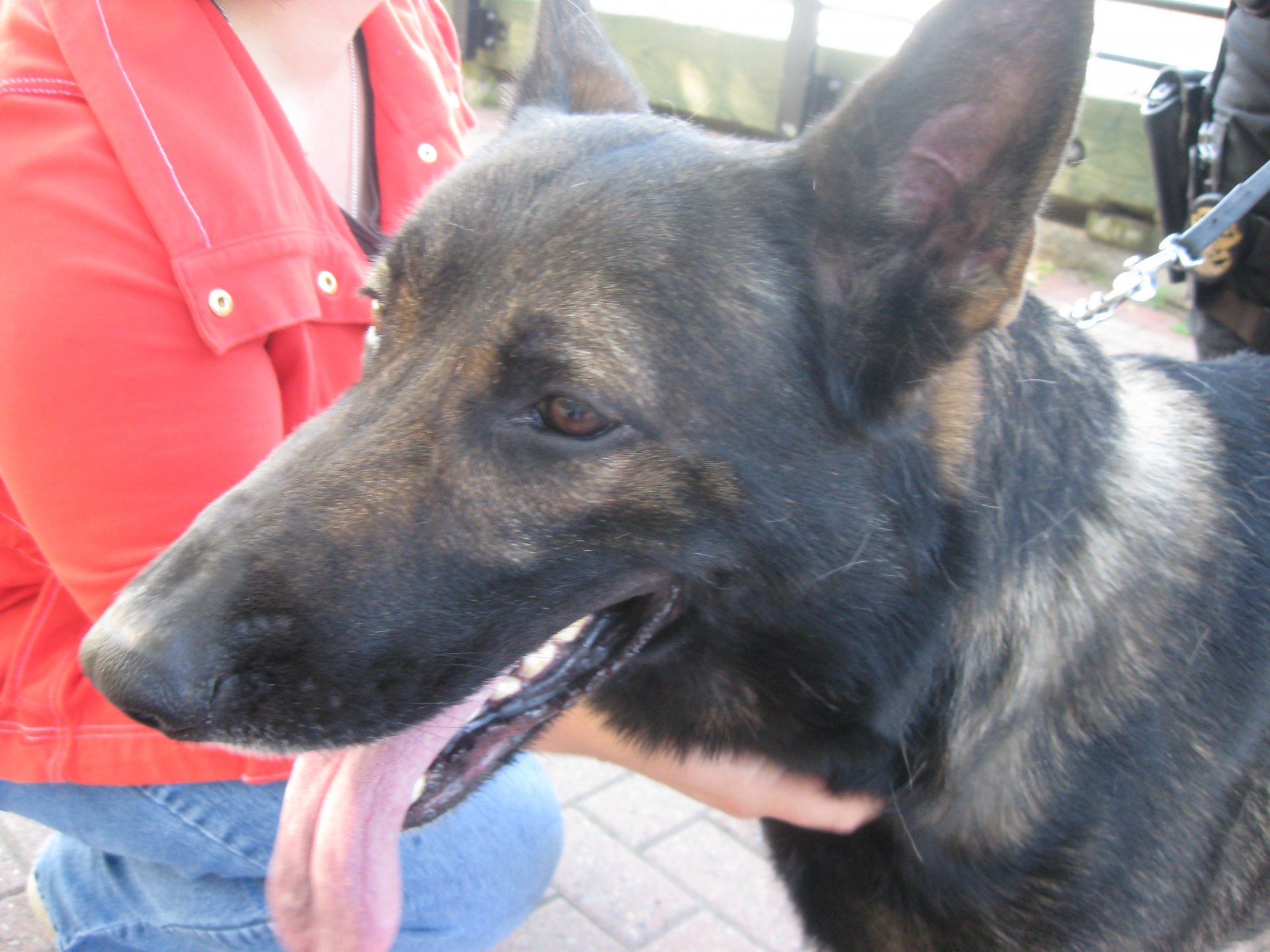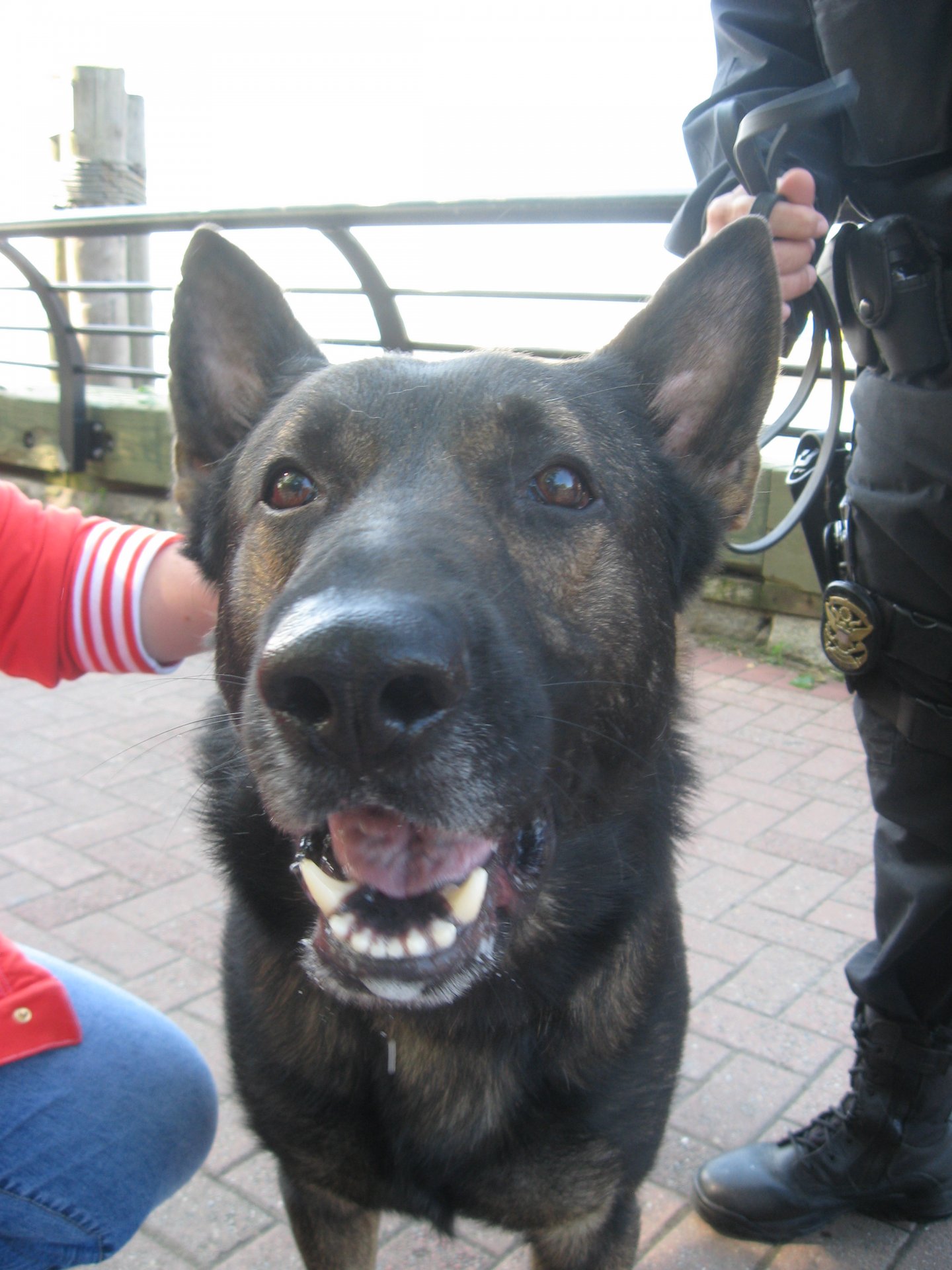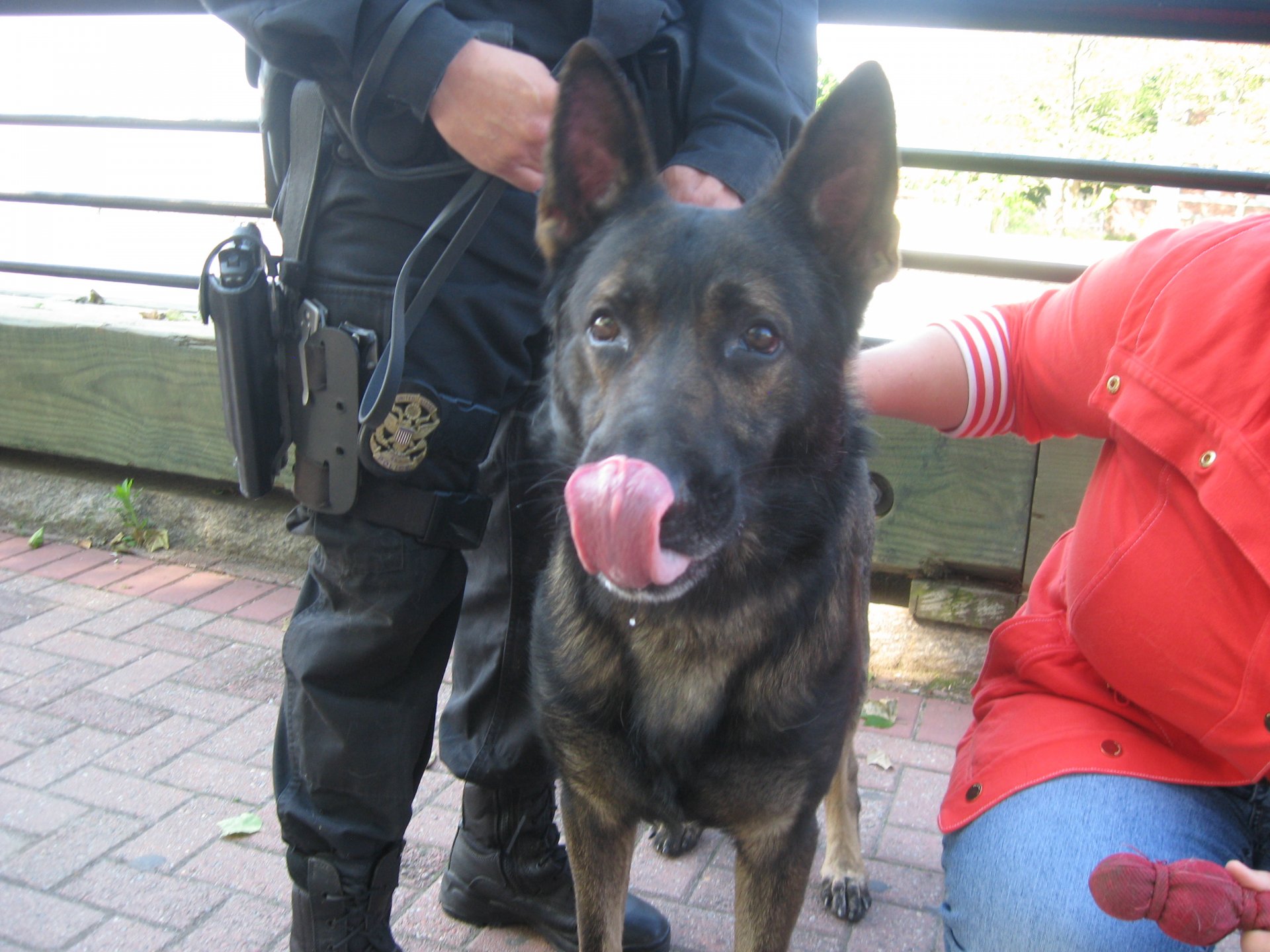 Meet K-9 officer Rex with the United States Parks Dept. He and his handler, Officer Jimenez, are responsible for providing law enforcement services and protection for the Statue of Liberty and Ellis Island. Rex's key skill is explosive detection. Rex almost didn't make it to his current role in law enforcement, he was a day away from death.
On a Monday morning we got the call that a German shepherd in a Connecticut shelter was deemed aggressive and going to be put down, and asked if we could help. Julia, one of our volunteers, went to the shelter to evaluate him. She as amazed at what she saw. Not the aggressive, fire breathing demon that was described to us, but rather a friendly, goofy, sweet shepherd with lots and lots energy. Julia could not leave him at the shelter and asked to foster him. She was told by the shelter staff that he was turned in by his owner who could not keep him and had a medical history because he was attacked by a pit bull from behind and suffered severe injuries. Luckily, the owner brought him to the vet for surgery and part of his tail was removed and he was stitched back together. You would never know it to look at Rex now, but if you went to touch his back end he became quite protective and would growl. Good to know why he exhibited this behavior, and understandably so. The shelter then adopted Rex to an inexperienced owner who returned him in one day and told the shelter staff he was too aggressive because she tried to grab his back end and he growled. One day mind you. I guess she never heard about building respect and trust. So she turned him back to the shelter and he was going to be put down. Enter Julia who takes him home and begins her foster mom job.
The first day was very tense, Julia having two shepherds of her own and an infant. But she was determined that Rex would get a chance. Rex cried most of the first night because he was afraid to be left alone, he had been dumped so many times in the last few days he had separation anxiety. Night number 2, foster dad Michael brought Rex to the guest bedroom and put the crate next to his bed and Rex slept like a baby. The next week Julia worked on obedience with Rex, socialization and building trust and respect. Rex flourished but it became apparent that Rex needed a job. Julia said he had lots of drive and energy and could we reach out to our police contacts. Luckily, the National Parks Service had an opening and after a thorough evaluation they agreed Rex had what they needed and was very happy to take him. Julia and Michael, Rex's super foster parents, were invited to Rex's graduation this week. When Rex saw them he began to whimper and cry like a baby, he was so happy to see them. He remembered them even after the 2 month training process. Many tears were shed that day both of joy and relief that this great dog was saved and given a second chance at life.
Congratulations K-9 officer Rex. And thank you Julia and Michael for helping save another wonderful German Shepherd!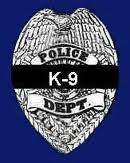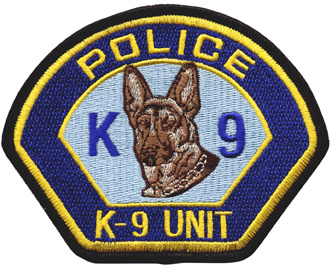 K-9 Winchester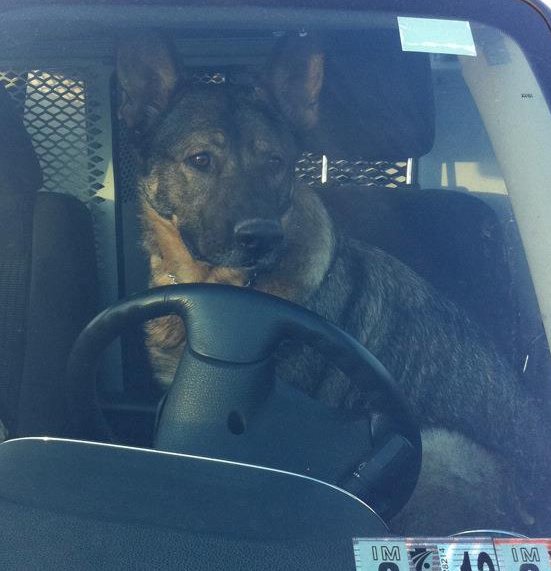 Winschester is too smart for his own good.  Now he's driving!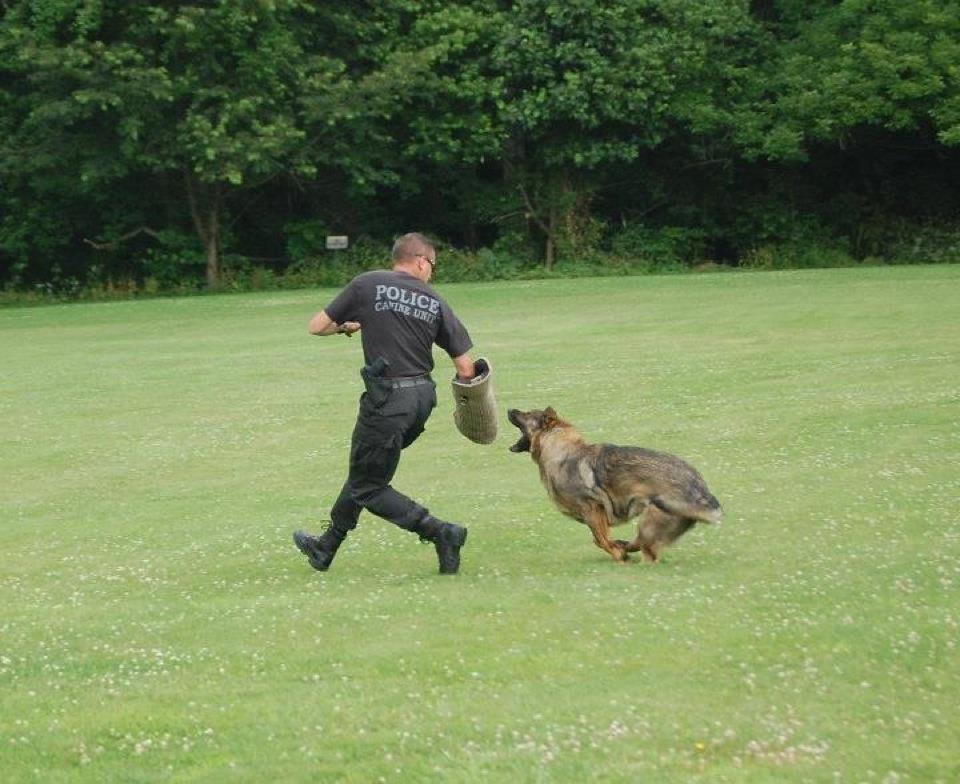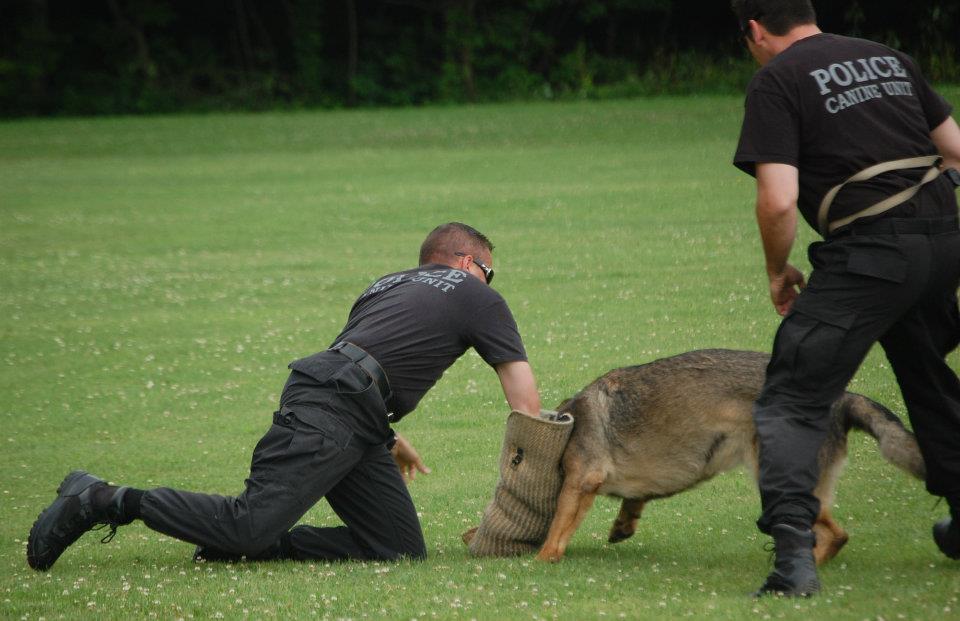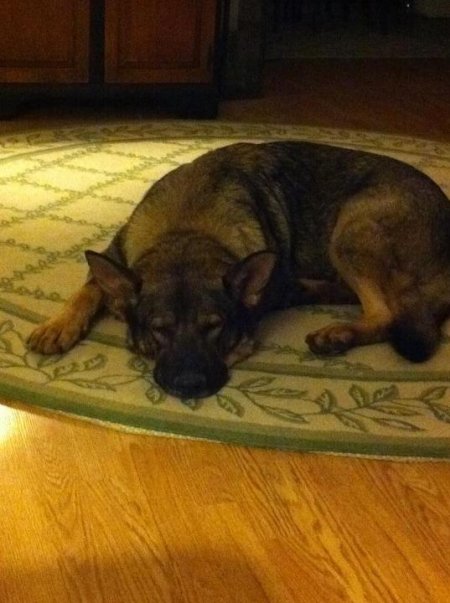 Winchester Chillin'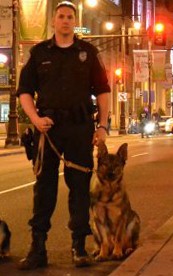 April, 2012
K-9 Winchester, Philadelphia Transit Authority (SEPTA) just certified in Explosives Detection.   Congratulations to his handler P.O. Jay Waltz and trainer Janie DiPasquale.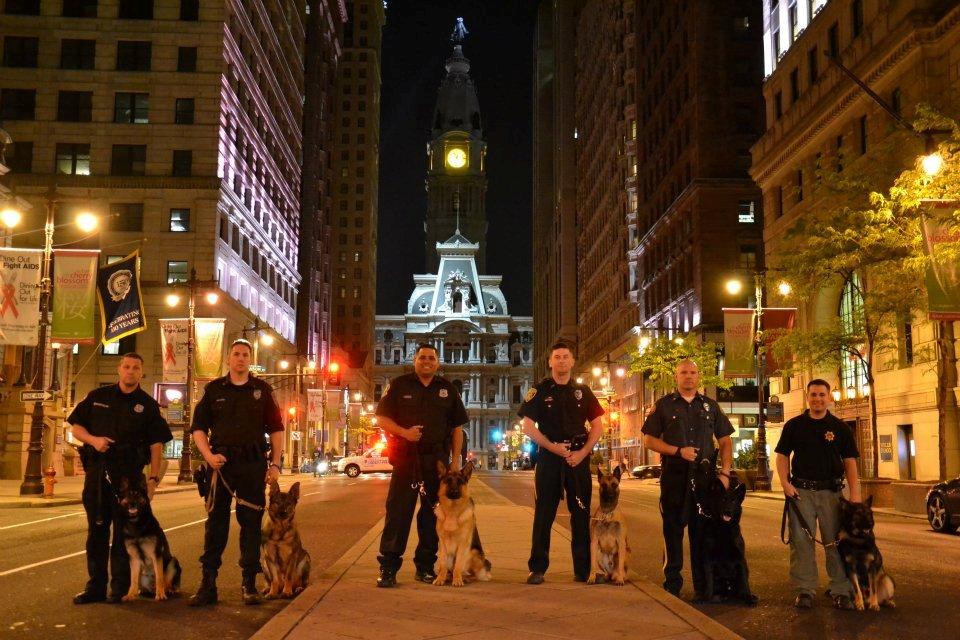 Baron (far left), Winchester (right of Baron) and their graduating class.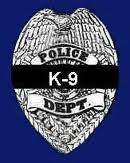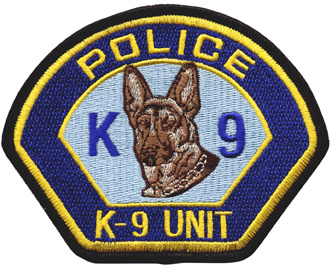 K-9 Rex
SHEPHERDS HOPE RESCUE, INC.
Old Brookville, NY 11545-2301
Please accept our deepest appreciation and gratitude for the wonderful work you did in saving Rex. Because of your dedication and love of the breed, Rex was able to be saved and placed in a situation where he can use his intelligence and personality to protect and serve his country. Without you, there would not be such an incredible end to a very difficult situation.
We are very grateful to you for your tireless work to help this great breed. You have never hesitated to open your home and your hearts to help us help them. We are so grateful to have you as volunteers with our group. Without your help, we would not be able to save so many and place them in the best possible homes these terrific dogs deserve.
Attached is a letter from the United States Department of the Interior thanking us for K-9 Rex. This is an amazing accomplishment. One that you should be very proud and happy to have made this happen.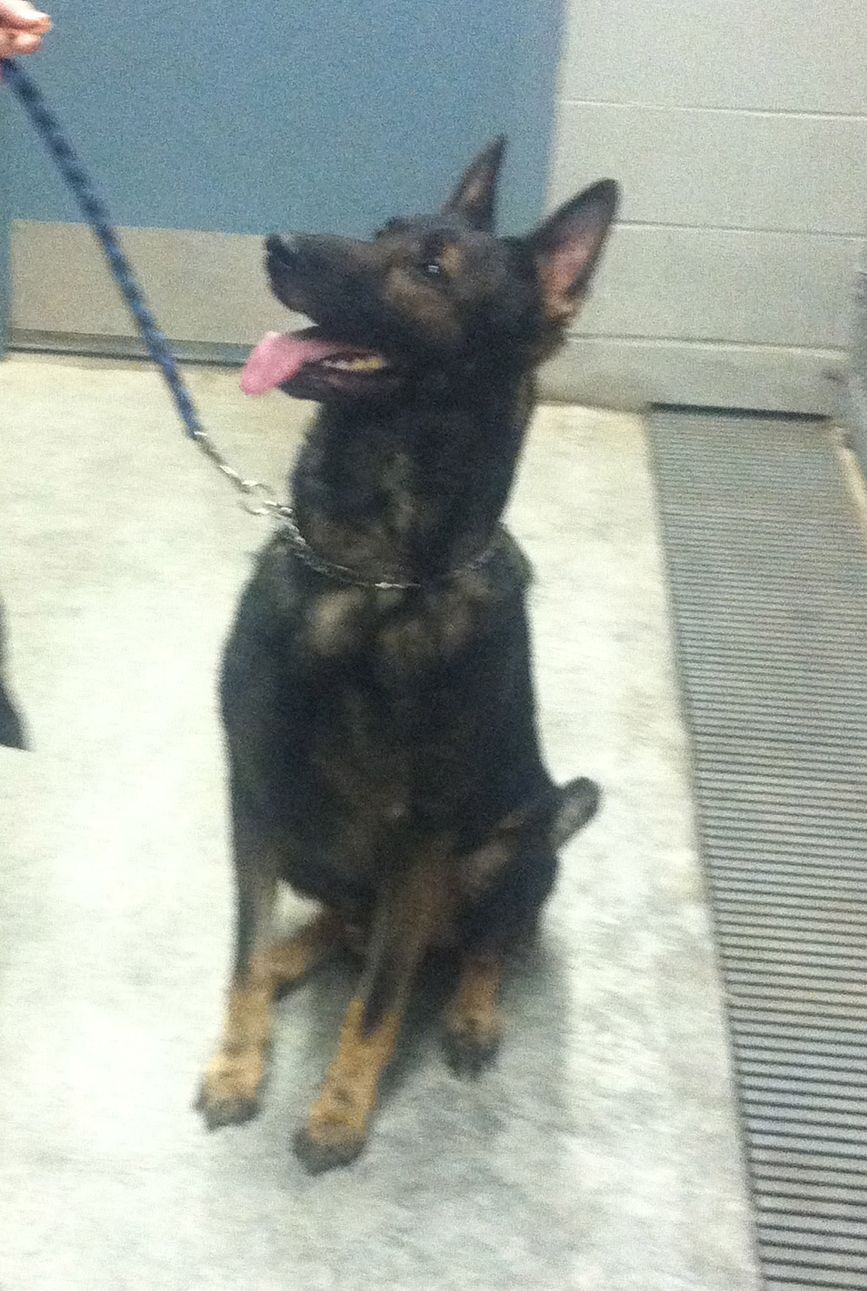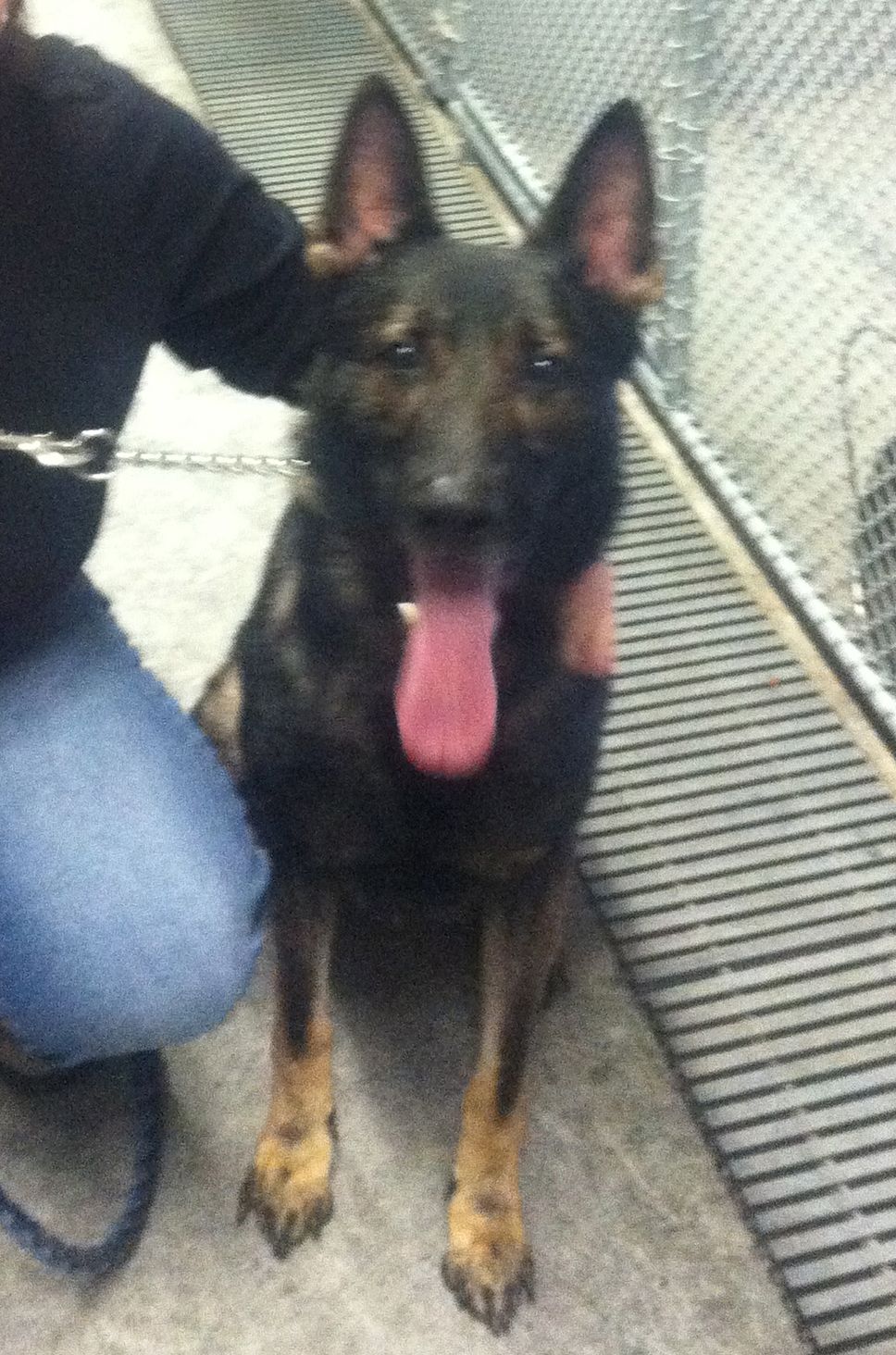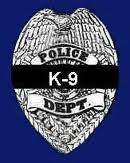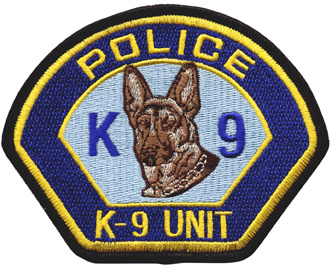 K-9 Nio
I am so very proud to say that Riley from my shelter, now known as "NIO", graduated with flying colors! I have copies of the paper but the website has 22 pictures of the dogs as work! Very impressive.
What a tremendous honor and thrill it was to be part of it!  Nio's new handler & owner was GREAT! I could not ask for a better life for Nio! Kevin is 28 yrs old and is assigned to the Saratoga County Sheriff's office. He is extremely committed to his job and to Nio!  Both Keven & Nio work hard for this day and truly deserve this honor! To think that six months ago Nio was slated for euthanasia and literally fighting for his life. Now he wears a badge and is honored for his accomplishments and graduating as one of NY's finest!!!!!!!! What an honor! I am so very proud of  Nio, I feel as thought he is my son!  In 20 weeks it was amazing to see what these officers and K9's were able to accomplish! Totally amazing.  Hats off to the entire NY State Police Department!
Chris was the trooper who initially came to evaluate Nio (Riley). Chris believed in Nio and was very happy with his ball retrieving skills but said that there are only a few openings and more dogs. Trooper Nolan told me to work with Nio on his tough of war skills as that is very important for drug sniffing dogs. The retrieving skill is used for bomb sniffing dogs. So the more skills Nio had the better his chances for being selected. Much Thanks to  Trooper Chris Nolan for helping me help Nio and for believing in NIO! Chris is certainly an asset to the Police Department and the K9 unit.
In case you can't tell I am thrilled to death and so very impressed! Enjoy the article. Also, for those who do not know like myself and my family the reason for the name change is that ALL K9 officers are named after fallen officers in the line of duty. Nio got his his name from a soldier that Kevin Kevin served with in Iraq or Afghanistan. This alone shows Kevin's loyalty and character!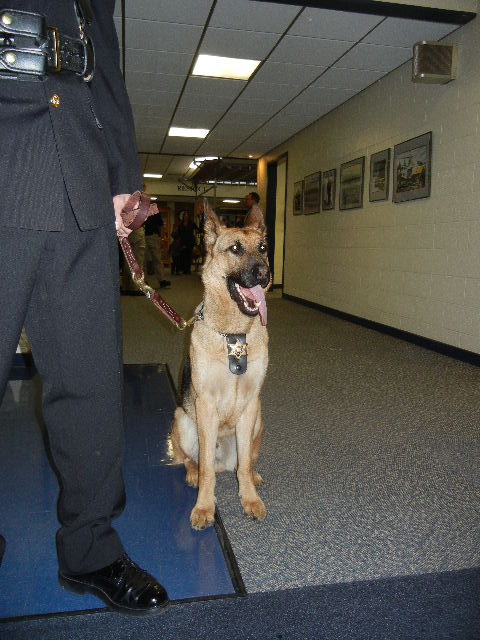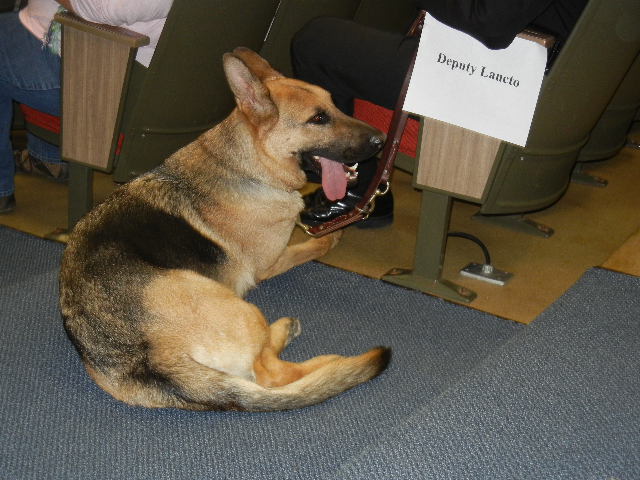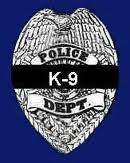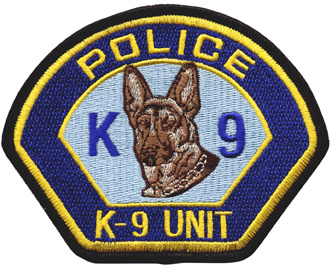 Pound Posse Puppies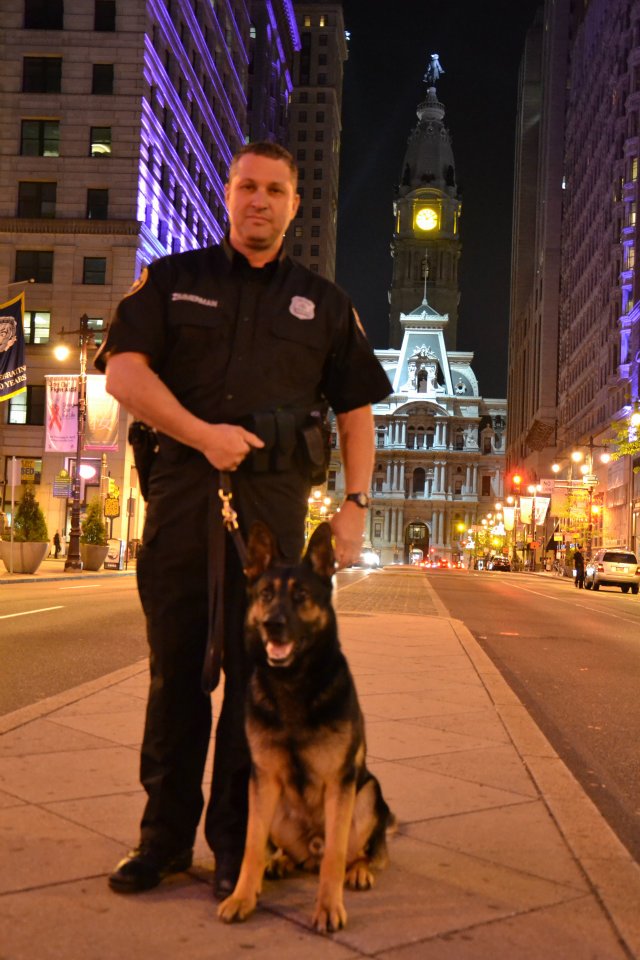 April 2012
K-9 Baron, Philadelphia K-9 Unit was just certified in Explosives Detection.   Congratulations to him and his handler P.O. Jim Zimmerman.
Shepherds Hope is so proud of our two rescue dogs, Baron and Reaper, who just graduated the police academy and will be serving and protecting the streets of Philadelphia, PA.
Reaper came from the city shelter. His owners surrendered him saying he was 'too hyper'. Wonder what they were thinking when they got a Belgian Malinois?! Heresay has it that he was a puppy kept back from a litter and he basically lived in a yard with no human contact, only food and water. Once we got to know him, we saw he had a tremendous curiosity and toy/play drive. Our wonderful friends at the Philadelphia K-9 unit came to evaluate him and snatched him up immediately for their next class.
Baron came to Shepherds Hope through a wonderful organization in NYC that helps keep pets out of the shelters. His owner was critically ill and his family wanted to make sure Baron went to a safe place. They reached out to us and we took him into our care. Our K-9 friends saw Baron and really took a liking to him too and decided to take him for their program. I know his dad would be very proud.
Baron, Reaper and two other dogs from another fine German Shepherd rescue are lovingly known as the Pound Puppy Posse. They have earned the respect of the entire unit. We are so grateful to the Philadelphia K-9 unit for their faith in these amazing dogs.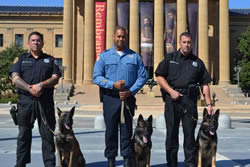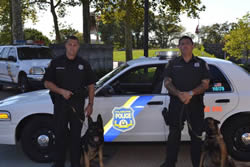 K-9 Baron's Titanium Tooth