You have watched me go from homeless to homeward bound.  Now, come check out what's going on in my new life.  Thank you for all your thoughts, prayers and support!
Check out more photos on our Facebook page at
 Dogs don't have to be perfect to be WONDERFUL
People often come to us to adopt the "perfect" German Shepherd.  They want them young, trained, and good with kids, cats and dogs.  Most dogs who come to us have been neglected and unwanted and need training, love and patience.  Older and special needs dogs are usually not considered for adoption.  But every once in a while we get a surprise, and we'd like to share these stories of some wonderful dogs and the incredible adopters who saved them.
Jodi's Story
A friend in Cape Cod asked us to keep an eye out for a German Shepherd for her friend who was not experienced in owning a Shepherd but was willing to learn and would provide a fantastic home.  We thought a nice, easy Shepherd mix would be a good match.
That very night a rescue friend in NC sent a Craig's List posting of the most pathetic SHepherdy-looking girl who was 9 years old.  Her owner was moving and couldn't take her along.  If a home was not found in 2 days, she would go to the shelter.  As most of us know, a 9 year old dog in a southern shelter would never make it to the adoption floor.  Our friend Veronica went to meet Jodi and found her to be a bit shy and scared, but warmed up after a bit.  Veronica said she was too adorable and sweet to deserve the fate coming her way.  Veronica brought her home and, within a day, Jodi was running with the pack and having a grand old time.  No trace of the scared and reserved dog of days ago.
I thought she would be a great fit for the adopter in Cape Cod.  I contacted her, sent pictures and videos and she fell in love immediately.
Before Jodi could be transported, she needed a full medical checkup and we prayed that she would be heartworm negative.  To our happy surprise she was, but her teeth wer a complete disaster.  So after extensive dental surgery, shots an spay, Jodi was ready to embark on her transport adventure to Cape Cod.  The moment Margaret met Jodi, it was love at first sight.
Now these two are inseparable and Jodi even gets to accompany Margaret, who is a real estate agent, on house showings riding happily in the back seat.  They enjoy early morning walks with the local pack to watch the sunrise – what more can a girl want?
We are thrilled we were able to help a wonderful dog like Jodi.  It was a group effort, working with a sister organization to find a home for a senior girl.  We can't thank Margaret enough for opening her heart and home and giving Jodi an amazing life.  Jodi has added so much joy to Margaret's home and the lovefest goes both ways!  Jodi has so much love to give her mon, and her kitty brother and sister now share her brand new pink bed.  Jodi is a little bit of a thing at 40 pounds, and Margaret laughts saying she is so glad she got the extra large dog bed.  Life is Good!!







                                 
           Hope's Story

 

Hope and her daughter Jenna were abandoned at a local animal hospital and we 
were contacted for help placing them.    Upon meeting Hope, it was clear she was 
used as a breeder dog because of her physical condition.  But even sadder was 
her mental state.  As with most breeding dogs, they are locked in crates and 
have little physical or emotional contact.  Hope was painfully shy and preferred 
to stay in her kennel rather than than venturing out.  Seeing and feeling grass 
for the first time was almost a painful experience.  She also had been yelled at 
and was hand shy.  We knew Hope would need a very special family to help her 
learn what love and kindness was.  
 
 As luck would have it, there was a wonderful family waiting for Hope who 
really wanted to RESCUE a dog.  They were not looking for a perfect dog - they 
wanted to save a life.  So mom, dad and kids came to meet Hope, who at the time 
was called 'Mommy dog.'  With the help of some hot dog treats, 'mommy dog' 
warmed up, but was still painfully shy.  She had that 'deer in the head lights' 
look, not understanding what was happening with all this touching and petting.  
Mommy dog didn't understand what affection was and that it was good.  She 
allowed handling but seemed to be waiting for something bad, like being hit.  It 
brought tears to my eyes to see this beautiful, sweet girl, try to trust and 
love but almost afraid.
 
 After a few minutes, it was quickly decided that Mommy dog would become the 
new family addition.  Since additional medical care was needed, she could be 
brought home the following week.  Family negotiations began to chose a name.  
Everyone had ideas but could not agree until the name 'Hope' was suggested, and 
then it was unanimous.  We were told later that part of the reason for her name 
was to honor our rescue. 

 As it turns out Hope was perfectly named.  After her first week, she 
accompanied the family to pick up her human sister at camp, where she is a 
counselor for autistic children.  Hope greeted the children in her calm, gentle 
manner.  There's been talk that maybe she will become a therapy dog.

 A few weeks after getting Hope, the family was scheduled to take a trip to 
Florida to visit their grandmother.  Initially they were going to fly but didn't 
want to leave Hope so soon, especially because she was making some progress 
learning to trust and love.    So the family drove down together and had a 
wonderful visit with grandma.   Hope even made some new friends! 

 Thank you to Vic, Lori and family for opening your hearts to a very special 
girl and for truly wanting to rescue a lost soul and make her love and trust 
again.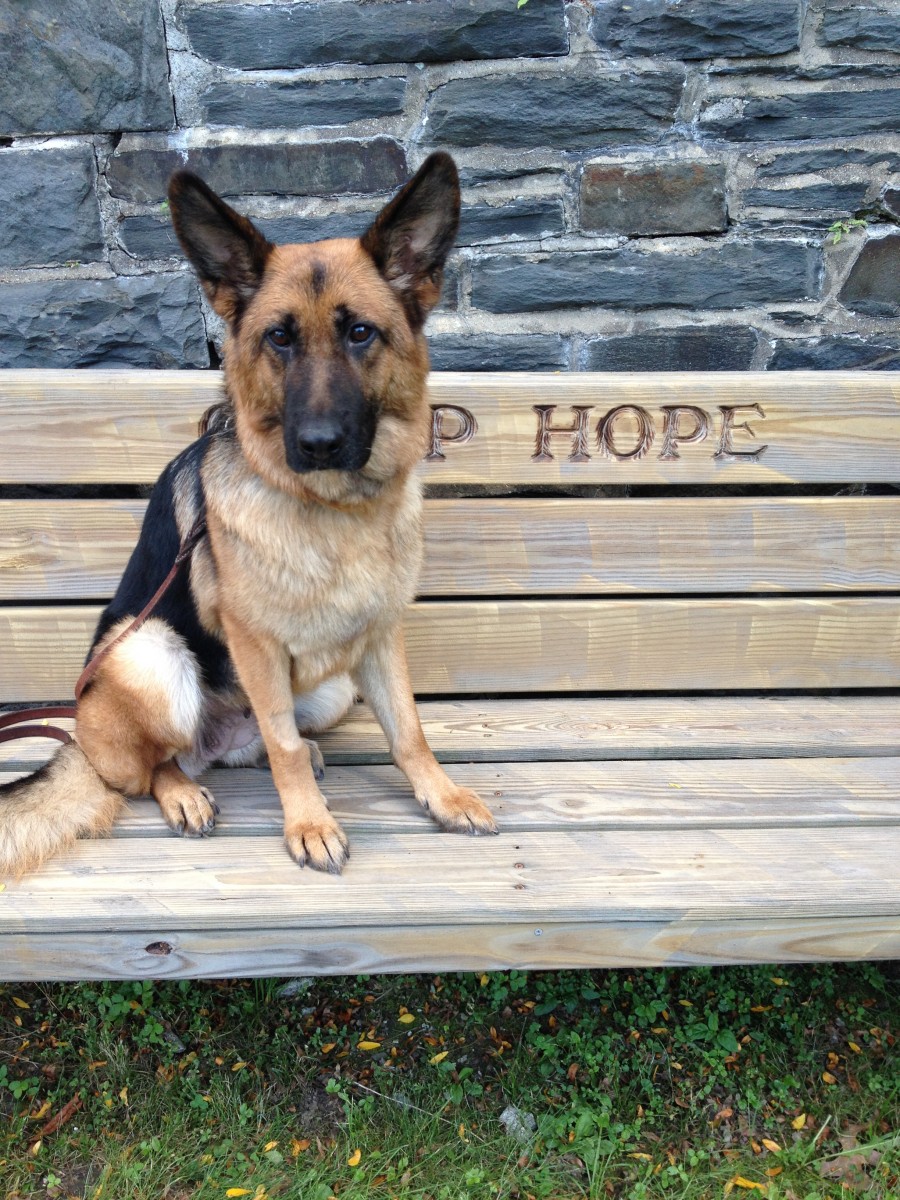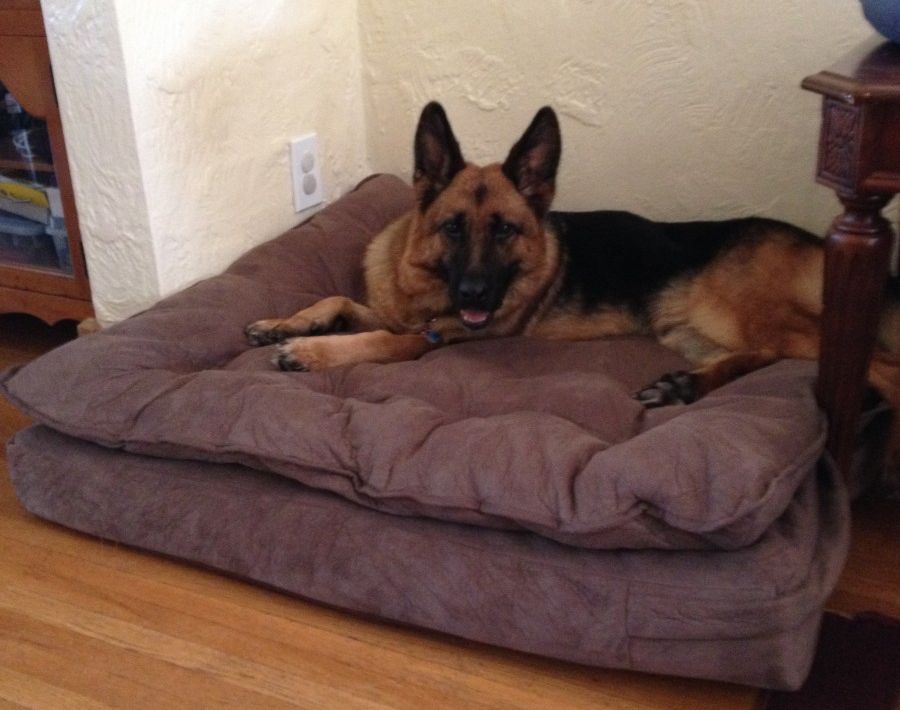 Hope's first bed. 
Update 9/8/2014
 King Cody's Story:

 

Our rescue friend Veronica in North Carolina contacted us about King, a very sweet Shepherd boy with seizures.  His mom was losing her home and could no longer afford to care for King, and he needed to find a home quickly or he would be left at the local shelter.   It's a well known fact that southern shelters are high kill and a dog like King with special needs would never stand a chance and would be euthanized right away.

 

Veronica was desperate to save him.  We reached out to a friend with a soft spot for older and special needs dogs.  We sent a few pictures of King and asked if she was interested.  She was so touched by King's story and his sweet face that she said she would take him.  

 

First task to was get King's seizures stable enough to be able to make the trip from North Carolina to Maryland.  A few days before he was ready to go he was limping badly and required x-rays.  The x-rays revealed he twisted his ACL and needed rest to heal so his trip was delayed.  Finally, after much waiting and hoping, King was transported to his new home and his new mom, Vanessa.  After a few days of being introduced to his new pack, King settled in very well.  Vanessa decided to change his name to Cody and she lovingly calls him "King Cody" because, as she states, he is 'gynormous!'

 

Our heartfelt thanks to Vanessa for opening her heart and home to a great boy like King Cody with special needs.  He is an incredibly sweet and gentle boy and didn't deserve to die because of his condition.   It takes a very loving and caring person to give a home to a boy like Cody.  Vanessa, we will be forever grateful for your huge heart.  Thank you!